Chris Greene Lake
Located just 30 minutes from the Inn on Poplar Hill the Chris Greene Lake Park offers 239 pet and family friendly acres (with 53 water acres and 2 beach acres)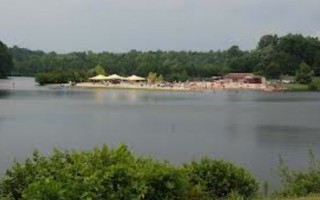 HOURS
Parks are generally open for daylight hours all year. Specific hours for each park are posted at park entrance.
SWIMMING – Take the kids for a  swim.  You will find a nice sand beach and life guards.
Daily 11:00am to 7:00pm. (from Memorial Day weekend thru Labor Day, except on the days when Albemarle County Schools are in session)
PARK USER FEE
Non County Resident entrance fee is $4.50 in the summer
Explore the lake via boat
U.S. Coast Guard-approved boats and crafts are welcome. Gasoline-powered motors are prohibited. Electric motors are allowed.
Or RENT a canoe for just $5 per hour Memorial Day weekend thru the summer swim season
FISHING
A Virginia State Fishing License is required. A wheelchair-accessible fishing pier is available. All bass 12 to 15 inches must be released immediately. Five bass per day limit. All other State Regulations apply. Click here for the Virginia Department of Game and Inland Fisheries
AMENITIES
3 miles of trails; wheelchair-accessible playground; 8 tables and 5 grills scattered throughout the park; seasonal restrooms; 2 picnic shelters, 6 picnic tables each, with open grills and electricity. Click here for a trail map.
DOG PARK
Chris Greene Lake Park has a 1 acre fenced in area for dogs to run off-leash, with a roped water access for dogs to swim. Open until dark every day.
DIRECTIONS
Take Route 29 North towards Earlysville; Turn left onto Route 649 (Airport Road); Turn right onto Route 606; Turn left onto Route 850 (Chris Greene Lake Road).
ADDRESS
4748 Chris Greene Lake Road, Charlottesville, VA 22911