Gluten Free Lemon Berry Soufflé Recipe
This lemon berry soufflé can also be made with regular flour, but since we have at least one gluten free guest each weekend I have been adapting my old favorites to accommodate our Gluten friend.  I  use  Namaste Gluten free Perfect flour blend.  It is a combination of Sweet brown rice flour, tapioca flour, arrowroot flour , sorghum four and a little xanthan gum.  I really love this flour mix it can be substituted in almost all flour based recipes.  The oatmeal berry scones are also delicious and such a treat for most people who are gluten free since often place just expect them do go without the bread items on the menu.  I never want my Gluten Free Guests to feel left out and I have found that by some creative recipes the wheaties never even know they are enjoying a Gluten Free dish.
Makes 4 single serving
Here is what you will need:
1 Lemon -You will be using the zest and the juice
4 eggs – separated
3/4 cup milk
1/3 cup sugar – If you are sugar free use your favorite substitute – I like to use 1 Tablespoon of Agave Syrup and 2 Tablespoons of Truvia – When I am making something sugar free I like to combine the sugar substitutes I think is gives a sweeter flavor and you don't need to include as much.
2 Tablespoons Namaste Gluten Free Flour Blend
pinch salt
1/2 cup fresh or frozen berries – You can use any that you have, I especially love using our fresh picked wild black berries
1/2 teaspoon cream of tarter
It is important to time your soufflés correctly.  You want to be able to serve them pipping hot when they come right out of the oven.
1 hour prior to service make the base.
Separate your eggs –
Zest your lemon peel into the milk
Heat the milk and lemon zest until scalded – do not boil the milk
In the food processor – mix the juice from the lemon, sugar, salt, flour, and egg yolks for 30 seconds
Stream in the hot milk
Return this mixture to the pan and heat over a medium flame  stirring constantly like you are making gravy, until it thickens to a pudding consistency – about 6 – 8 minutes
Remove from heat and let cool
20 minutes prior to service – Preheat oven to 350*
Prepare 4 ramekins – coat the inside with butter and then dust with sugar – This is an important step to keep the soufflé mixture from sticking to the sides.  Your dishwasher will thank you.
Beat the egg whites and cream of tarter until stiff
Gently fold the lemon base into the white
Do not over mix
Mix in the berries
Scoop the mixture into the prepared ramekin – Bake on cookie sheet in the middle of the oven
Bake in a 350* oven for about 15 minutes – Don't open the oven to peak
They soufflés are done when they are puffed and browned on top.
Serve immediately with a warning about how hot they are.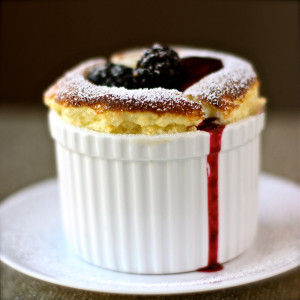 ENJOY!
Here it is served with a drizzle of blackberry syrup.