Select from one of these great Murder Mystery Games, or call to discuss your preferred plot and theme.
'A St Valentine's Day Murder Mystery'
6 – 10 Guests
The year is 1929 and Prohibition is at its height. Until last week Chicago was run by four big players. Tommy Gunn, who runs booze and girls, Al Kohol, who runs booze and protection rackets, Spits Feathers, who runs booze and gambling dens through his bakery business cover and, until his murder last week, Buck Fifty who ran booze and slot machines. As the rival gangs move in on Buck's empire, Tommy Gunn has called a party to celebrate his 40th birthday, but does he have other sinister plans?
A gangster style murder mystery set on St Valentines Day 1929 at a party to celebrate Tommy Gunn's 40th birthday. The game is for between 6 and 10 players who will attend a birthday party they will never forget.
Also available in: Female Only Version
'Murder on the French Riviera'
8-15 guests
Frank McGovern, the French Riviera's most well-known English entrepreneur, has been found dead on the quiet island of St. Hilaire off the coast of Cannes. After an initial investigation, Father Plausible, of the island's monastery, is taken into custody and charged with the murder. Is there enough evidence to charge him with the crime? Or are the other suspects equally suspect? The suspects gather together to pay their last respects to the victim…
A challenging modern-day murder mystery for 8-15 players set in the South of France.
'A License To Murder'
8- 12 Guests
A party is being held to celebrate the wedding of top secret agent James Bland and Honor Majesties, secret agent and now Mrs Bland. The party is being held at Miss Funnymunny's Health Spa and you are invited to attend. The other guests will include many of James Bland's former adversaries who, in the new spirit of reconciliation and friendship, have been invited to celebrate the big day.
A murder mystery game for 8 to 12 players set in the world of secret agents and mad megalomaniacs.
'Death by Chocolate'
8 – 12 Guests
A joint party is being held at Thornbury's Chocolates to launch the new range of Symphony Chocolates and also to celebrate the 40th birthday party of Shopin Channill (That's pronounced Show-pan) who is the daughter of Thornbury's owner Cocoa Channill. What could possibly go wrong on such a happy night?
A chocolatey murder mystery for 8 to 12 players set at a new product launch party. Great for Valentine's Day or couple parties.
That '70s Murder'
8- 14 Characters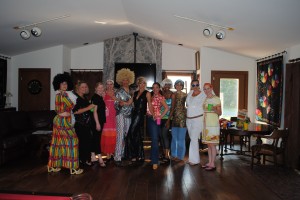 It's time to put on that leisure suit, bellbottoms, platform shoes and grab your mood ring as you and your guests solve "That '70s Murder". Big-time record producer 'Rockin' Roland has been found dead during his party in his hip Malibu beach house. Your guests will have fun answering '70s trivia questions, dancing to '70s music as well as trying to solve "That '70's Murder". Can you dig it? Far out!!
It's the coolest party of the decade with dancing, good times, a trivia challenge…and a murder!
'The Murder Game'
6 -8 Guests
If you like 'CLUE' you'll love this game! Was it Blackie Knight in the Music Room? Was it Rusty Foxe in the Picture Gallery? Or was it Skye Blue in the Wine Cellar? Sound familiar? Here's the chance for you and your guests to play this classic whodunnit of who, where, and why for you set in a mysterious grand home during the "Roaring '20s." As each round of the game is played everyone (if they ask the right questions) can detect the where (there are 8 rooms), the who (8 suspects) and the why (8 different motives) of this most intriguing murder.
Who would kill Ann Nonomus? And where? And why? Play "The Murder Game" and find out!
'The Railburn Affair'
9 – 12 Guests
Canvassed in the Majestic Rocky Mountains, the Stanford Alpine Hotel basks in the graciousness of a by-gone era. It is 1936, and a well known railroad baron is found dead on the premises. The guests of the Hotel, the fashionable elite of the early 20th Century, are now all suspects.  An adult mystery party with lots of interesting relationships, captured in a Roaring 20's Party Theme that will entertain 9-12 guests.
'Spooky Hollow Horror'
8-14 Guests
The grand celebration of the new owner of Spooky Hollow Manor has been overshadowed by the spine-chilling murder of one of the guests. Since everyone is a suspect in this act of foul play, this ghoulish gang is out for an evening of fright and horror! All guests will have fun playing their unique characters and investigating this unpredictable outcome.
A murder mystery for 8-14 people of all ages is a great way to entertain your family and friends and transport them into a wonderful haunted house adventure full of weird and wacky characters. Dust off your cobwebs and join in the fun!