Our Story
On our first visit to a B&B, the Chester House in Front Royal VA in 1991, we were relaxing in the hammock, daydreaming about our future, At the time we were newlyweds with two small kids. The dream of owning an Inn seemed just that, a wonderful dream. Over the next ten years, we stayed at many incredible B&B's meeting wonderful people both innkeepers and guests, every inn was unique. We always felt fortunate to experience the differences and hoped to bring our own unique personality and what we learned to the Inn on Poplar Hill.
We set out to create an environment where our guests felt pampered and were able to escape the stress and pressure of day to day life. To create a "Special Place" where guests felt comfortable and pampered, where they can kick off there shoes, play a game or two and recharge their batteries.
As we started our journey in 2002 we did not know what to expect. We had never owned an old house. We lived in a typical suburban DC neighborhood on a 1/3 acre lot. Now fourteen years later, we have met so many interesting people from around the globe, and made life long friends, baked  a few thousand batches of cookies, mowed about a million acres of grass, witnessed over 90 weddings, solved the crime at over 70 "Murder Mystery" dinners, and so much more….
Today we don't spend many lazy afternoons day dreaming in the hammock. We are busy making sure you have the chance to relax and enjoy your limited vacation days. We know that dreams really do come true, we live our dream everyday. Our wish is that our guests will find a quite corner during their stay, so that they too can dream.
Questions? Feel free to give us a call, we are happy to help.
Safe Travels, Marty & Victoria
540-672-6840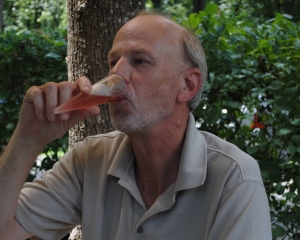 A native Washingtonian Marty sold office supplies for over 20 years before retiring to the country life. Purchasing the property in 2002 with his wife Victoria. For the first few years he commuted to DC, but in 2008 he traded in his SUV for a mower and assumed the full-time house and groundskeeping duties. Marty's favorite pastime is visiting the local Vineyards while driving the Designated Driver Van.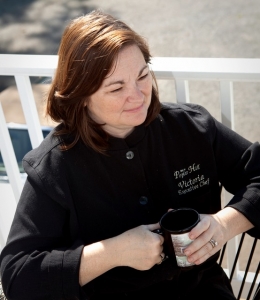 Victoria worked as a Project Manager for EDS for most of her career. She also help launch several early tech companies including a new DVD media format DIVX and a Web Content Management solution that was purchased by IBM in 2002 When she traded her corporate suits for a chefs coat and sewing machine. She has decorated the Inn creating all of the window treatments and recovering the upholstered furniture.. Ask her about curtain Camp! A fun 2 day boot camp for DIY Window Treatments.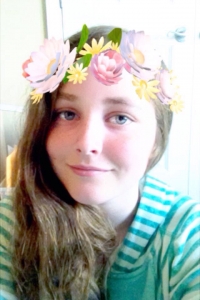 When not attending Orange Middle School, Kaitlyn is an avid Anime fan. She is great with animals and is happy to introduce you to her rabbit Patch. She is also available to walk your dog during your stay.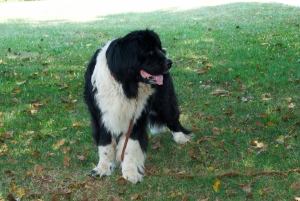 Cookie is a 130 lbs. of love. A true gentle giant. She has slowed down now that she has reached the ripe old age of 9. She is still happy to role over for a belly rub or a treat.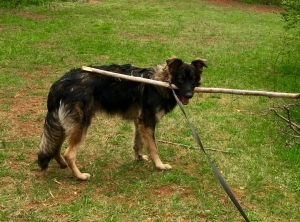 Bailey is Shilo Shepard, just a year old he still has a little growing to do.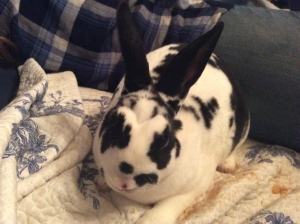 Patch joined the garden staff in the Spring of 2016, he has been doing his part to create rich garden soil.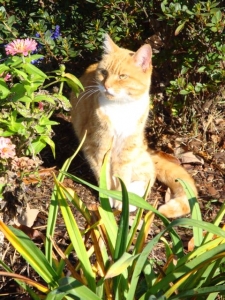 Sequoia was our front porch cat from 2002 until she crossed the rainbow bridge in 2008.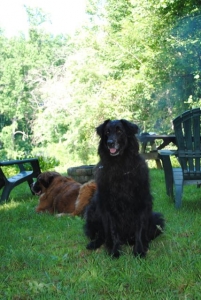 Bear was with us from 2003 until his passing of old age in 2013. He was a big hearted dog who could read my mind.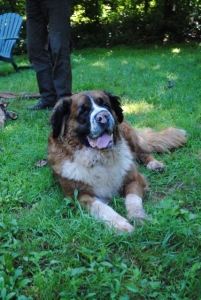 Molly joined the family in 2005 and was an amazing friend until her passing in 2013 at the ripe old age of 13! Her gentle spirit is missed every day.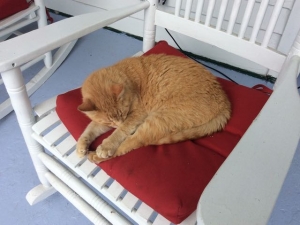 Sweet Pea showed up on the back porch at about 4 weeks of age in 2006. He was the sweetest cat like most tabbies. For 10 years he guarded the grounds from unwanted visitors. In 2012 he brought home a stray kitten and adopted her as his own. Shadow and sweet Pea were constant companions until Sweet Pea passing in June 2016.